ROOM OVERVIEW
Hummingbird Suite
The Hummingbird is our most economical self‐contained suite offering deluxe twin beds, deluxe bathroom with double sinks, fully‐furnished kitchenette and extra‐large private patio.
BOOK WITH PINEACRE ON THE LAKE
Request to Reserve Now
Please select your CHECK IN and CHECK OUT DATES
you wish to stay with us at Pineacre on the Lake
2‐night minimum stay May 15 through Sept 15 unless filling in a 'single'
3‐night minimum stay for all long weekends May 15 through Sept 15

PINEACRE ON THE LAKE
Hummingbird Suite Amenities
250 sq. ft. Private Patio

Maximum Capacity: 2 guests
Organic Soaps, Gels, Shampoo and Conditioner Provided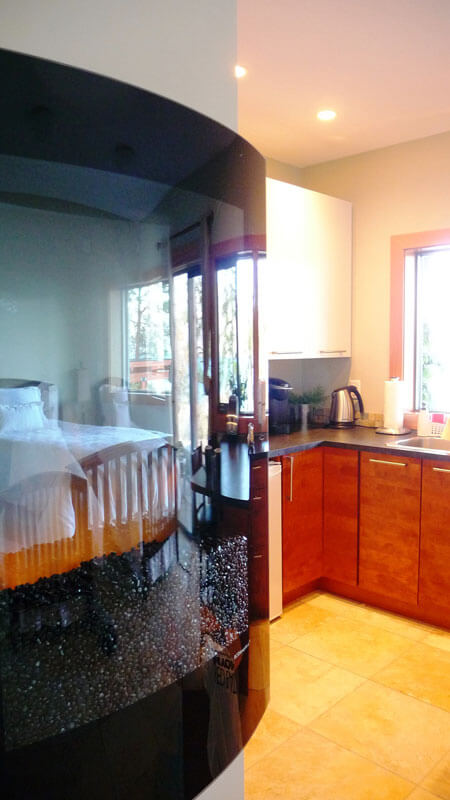 LAKE OKANAGAN
Amazing Views
Our guests say they could stare at our view for hours…and many do! Whether it be sunrise, sunset, a beautiful sunny day, or a thunder & lightening show followed by a rainbow (a double one, if you are lucky), you are in for a treat. Add the sound of masses of birds…especially enjoy the hummingbirds that nest on the property…and you will be transported.

"We thoroughly enjoyed our leisurely walks down to the Lake. It was our best experience with B&Bs in comfort, luxury and location. We highly recommend it. "
RAY & JENNEY, CALGARY, ALBERTA
"The place is extraordinary, the hosts are extraordinary and therefore your stay in Pineacre will be extraordinary. But as mentioned before — this should remain a secret!"
ALEX, GERMANY

AVAILABLE ACCOMMODATIONS
Our Suites